"《After Effects嵌套層和預合成視頻教程》(Lynda.com After Effects Apprentice 08 Nesting and Precomposing)[光盤鏡像]"介紹
中文名
: After Effects嵌套層和預合成視頻教程
英文名
: Lynda.com After Effects Apprentice 08 Nesting and Precomposing
資源格式
: 光盤鏡像
學校
: Lynda.com
主講人
: Chris Meyer
Trish Meyer
發行日期
: 2011年
地區
: 美國
對白語言
: 英語
文字語言
: 英文
簡介
: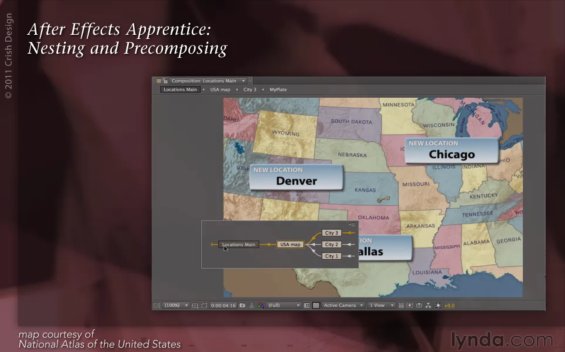 語言:英語
網址:http://www.lynda.com/After-Effects-CS5-tutorials/After-Effects-Apprentice-08-Nesting-and-Precomposition/84051-2.html
類別:教程
(xuehui@TLF)
Lynda.com 出品的時長2小時05分鐘的 After Effects系列學習第8部:嵌套層和預合成 視頻教程。由Chris Meyer和Trish Meyer共同分享所需的核心技術,使你成為高效率使用After Effects的用戶:理解渲染順序(操作After Effects內部秩序運行時計算遮罩,特效,轉換,動態遮罩,層樣式)和使用多次合成時一個組件可能會嵌套一個或多個文件。這樣就更容易組成層,可以有效地重復使用同一元素,以便快速適應客戶的改變。教學圍繞講解多層次大型復合材料和解決渲染順序的問題。本教程附帶練習文件。
Course name: After Effects Apprentice 08: Nesting and Precomposing
Authors: Chris Meyer Trish Meyer
Duration: 02h 05m
Released on: 6/29/2011
In this course, Chris and Trish Meyer share two of the core secrets required to become an efficient After Effects user: understanding the render order (the internal order of operations After Effects uses when calculating masks, effects, transformation, track mattes, and layer styles) and the use of multiple compositions where a composition may be nested into one or more other comps. This makes it easier to group layers, efficiently re-use a common element to quickly accommodate client changes, pan around large composites of multiple layers, and solve render order issues. Exercise files are included with the course.
The After Effects Apprentice video lessons were created by Trish and Chris Meyer and are designed to be used on their own or as a companion to their acclaimed book, After Effects Apprentice. We are honored to host these tutorials in the lynda.com Online Training Library®.
Topics include:
Grouping layers by nesting and pre-composing
Identifying and solving render order issues
Navigating composition hierarchies
Editing a precomp while viewing the result in another composition
Preserving the frame rate of a nested composition
下載鏈接來自TLF
未經過安裝測試與安全檢測,使用者後果自負與本論壇無關
軟體版權歸原作者及其公司所有,如果你喜歡,請購買正版
目錄
:
Introduction
Overview 01m 40s
13m 18s
1. Nesting a Group of Layers Building an extra-wide composition 05m 41s
Nesting and animating a precomp 03m 33s
Editing the precomp 04m 04s
15m 47s
2. Nesting a Common Source Using common elements 05m 30s
Creating and animating a map composition 05m 10s
Accommodating changes efficiently 05m 07s
16m 08s
3. Precomposing a Group Precomposing to group layers 09m 42s
Precomps and effects 06m 26s
19m 59s
4. Precomposing a Single Layer What could go wrong? 10m 22s
Precomposing with Leave All Attributes In 06m 54s
More on precomps and effects 02m 43s
29m 55s
5. Render Order Issues Understanding the render order 05m 25s
Solving problems by using a second composition 07m 33s
Using precomps to rewire the render order 08m 53s
Render order exceptions 08m 04s
08m 29s
6. Quizzlers Quizzler challenges 03m 15s
Quizzler solution 1: Alien puzzle 03m 14s
Quizzler solution 2: Picture in picture 02m 00s
08m 39s
7. Idea Corner Finishing the Muybridge promo 08m 39s
11m 28s
8. Sidebars Navigating composition hierarchies 04m 29s
Edit this, look at that 03m 46s
Preserving frame rate 03m 13s
代碼

.· ░░░ ·■. ▀ ▓▄■ ■ ▄░ ■▄░ ▀▄ zk ■
▄▓█████▓▄ ▀▄ · ▄▓ ▄███▄░ ▄▄▄▄████ ░▄███▄ ▀▓█▄▄▄▄▄▄░ ·
████▀▀▀███▄ ██▄ ▄██ █████████▄ ▒█████▀▀██ ▄█████████▄ ██████████▄
▒███ ▓██░███ ███ ▓██▀ ▀██▓ ▓██▓ ▓██░███▀ ▓███ ███ ▀██▓
▓███ ▓██▓███░ ███░███░ ▓██░███░ ▄██▀ ██▓ ░███░███ ▓█▓
▓███ ▓██████░ ███████ ▀██████ ▀ ██▀ ███▓███░ ▄▓█▓
▓██▓ ███████░ ████████████████████████████████████████████████▀▀
▒██▓ ░▄ ███▓███░ ███░██▀▀▀▀▀▀▀██▓▀▀▀▀▀▀▀▀███▓██▀▀▀▀▀▀▀██▀███▀▀▀▀███▄
███▄ ▓█▄███░███░ ███░███░ ▓██░ ▄▄▄■ ███░██▓░ ░███ ▓██ ███░
▀█████████░ ███▓░ ▄███ ██▀ ▀██ ███ ░██▓ ██▀ ▓██ ▓██ ▓██▓
▀▀▓▓░███▄ ▀█████████▀ █▀ ▀█ ████▄▄▄███▒▄▀ ▀█▓███ ░███
▀██▄ ▀▀▓▓░▀▀ ▀ ▀ ▀▀█████▀▀ .░ ▓██
▀ .· ▄█▀
▀ ▀
QUASAR PROUDLY PRESENTS
· ───────────────────────────────────────────────────────────────────────── ·
After Effects Apprentice 08 Nesting and Precomposing
(c) Lynda.com
Supplier . : QUASAR Size ..... : 38 x 50MB
Cracker .. : QUASAR Protection : Condom
Packager . : QUASAR Type ..... : Brain Enhancement
Date ..... : 07–10–2011 OS ....... : Win/Mac
· ───────────────────────────────────────────────────────────────────────── ·
After Effects Apprentice 08 Nesting and Precomposing
Author: Chris Meyer and Trish Meyer
In this course, Chris and Trish Meyer share two of the core
secrets required to become an efficient After Effects user:
understanding the render order (the internal order of
operations After Effects uses when calculating masks,
effects, transformation, track mattes, and layer styles)
and the use of multiple compositions where a composition
may be nested into one or more other comps. This makes it
easier to group layers, efficiently re–use a common element
to quickly accommodate client changes, pan around large
composites of multiple layers, and solve render order
issues. Exercise files are included with the course.
The After Effects Apprentice video lessons were created by
Trish and Chris Meyer and are designed to be used on their
own or as a companion to their acclaimed book, After Effects
Apprentice. We are honored to host these tutorials in the
lynda.com Online Training Library.
Topics include:
* Grouping layers by nesting and pre–composing
* Identifying and solving render order issues
* Navigating composition hierarchies
* Editing a precomp while viewing the result in
another composition
* Preserving the frame rate of a nested composition
· ───────────────────────────────────────────────────────────────────────── ·
INSTALLATION
────────────
Unpack, burn or mount and enjoy.
· ───────────────────────────────────────────────────────────────────────── ·
GREETINGS
─────────
We salute our friends, our loyal members and our fair competitors.
· ───────────────────────────────────────────────────────────────────────── ·
░▓██████████████▓░ ··· THE ALMIGHTY QUASAR · 2011 ··· ░▓██████████████▓░
· ───────────────────────────────────────────────────────────────────────── ·