中文名
: Lynda.com出品Drupal 7基礎培訓 視頻教程
英文名
: Lynda.com.Drupal.7.Essential.Training
資源格式
: 光盤鏡像
學校
: Lynda.com
主講人
: Tom Geller
發行日期
: 2011年
地區
: 美國
對白語言
: 英語
文字語言
: 英文
簡介
:
語言:英語
網址:http://www.lynda.com/home/DisplayCourse.aspx?lpk2=73655
類別:教程
(xuehui@TLF)
Lynda.com 出品的時長達7小時23分鐘的 Drupal 7基礎培訓 視頻教程。由Tom Geller主講如何發揮占有力超過四分之一萬個網站的Drupal內容管理系統(CMS)的最大使用效益。本教程演示了怎樣下載和安裝Drupal,添加內容和圖形到一個站點,更改布局與設計元素,管理配合訪問者,擴展網站功能有多少可利用。還探討已制定最佳做法的每一步來確保網站繼續保持簡化,安全和最新狀態。本教程附帶練習文件。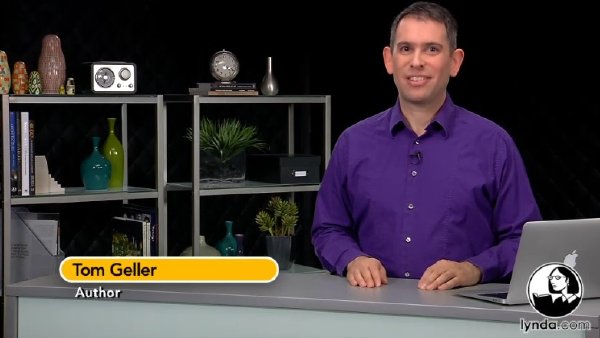 Course name:
Drupal 7 Essential Training
Author:
Tom Geller
Duration (hr:min):
7:25
Released on:
1/14/2011
Exercise files:
Yes
Software works on:
Mac and Windows
Drupal 7 Essential Training shows how to get the most out of Drupal, the content management system (CMS) that powers over a quarter million web sites. The course demonstrates how to download and install Drupal, add content and graphics to a site, change layout and design elements, control visitor interactions, and expand the site's capabilities beyond what's available in Drupal core. Discussion of established best practices in each step to ensure that a site remains streamlined, secure, and up-to-date. Exercise files are included with the course.
Topics include:
Comparing Drupal with other content management systems
Understanding nodes
Creating basic content
Adding blogs, discussions groups, and polls
Subscribing to RSS feeds
Creating new content types
Managing users, roles, and permissions
Creating and modifying block regions
Adding menus
Extending site capabilities with modules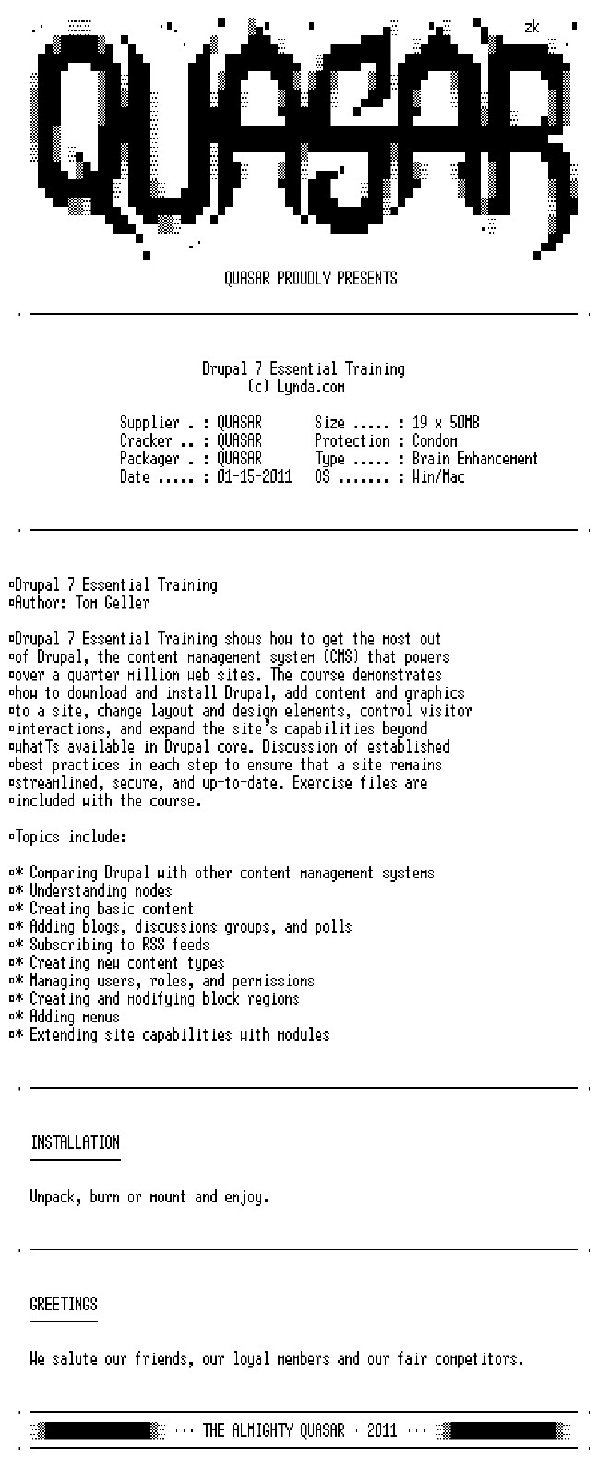 目錄
:
Introduction Welcome 00:56
Getting a Drupal site up fast 04:37
Using the exercise files 04:56
1. Defining Drupal Managing content with Drupal 06:00
Comparing Drupal with other content management systems 06:24
Deciding whether to use Drupal 05:04
Looking at Drupal-built sites 03:20
Exploring the Drupal universe 07:07
Getting help with Drupal issues 07:23
2. Understanding How Drupal Works Checking Drupal's requirements 04:34
Investigating Drupal's inner workings 02:54
Learning Drupal's basic workflow 05:24
Understanding key terms in Drupal 04:39
Touring Drupal's interface 04:47
3. Installing Drupal on Mac OS X or Windows Installing the Acquia Drupal stack installer (DAMP) 04:45
Importing core Drupal into DAMP 03:03
Running Drupal's installer on top of DAMP 04:57
4. Installing Drupal on a Server Uploading Drupal with SFTP 04:56
Uploading Drupal with SSH 07:42
Creating Drupal's MySQL database 03:32
Running Drupal's installer 03:45
Installing Drupal using Acquia's Debian/Ubuntu package 03:25
5. Controlling Drupal Using the toolbar 05:31
Using the shortcut bar 06:04
Touring the administrative controls 04:48
Customizing the Dashboard 03:47
Differentiating administrator and visitor views 02:04
6. Building a Drupal Site Understanding nodes 02:06
Creating basic content 07:48
Changing site information, graphics, and interface 05:27
Giving visitors a way to contact you 07:12
7. Controlling Content Creating content summaries 05:53
Revising content 04:29
Categorizing content with tags 04:28
Going further with content categories 07:23
Publishing content via RSS 06:53
Using text formats to prevent content damage 09:16
Setting the comment policy 07:45
Managing comments 05:18
8. Enabling Other Content Types Adding blogs 05:13
Adding discussion groups 09:52
Adding polls 06:29
Subscribing to RSS feeds 07:25
Categorizing RSS feeds 04:53
9. Extending Content Creating new content types 04:58
Adding fields to content types 09:06
Exploring field types and options 08:22
Adjusting field display 04:38
Customizing field display by context 02:53
Modifying image styles 07:36
10. Managing Users Defining new user policies 07:59
Creating user accounts 06:45
Setting up user profiles 05:19
Defining user roles 02:47
Controlling access permissions 06:00
Canceling user accounts 06:09
11. Changing a Site's Interface Understanding Drupal page layout 04:34
Taking advantage of block regions 04:43
Creating and modifying blocks 05:41
Selecting and installing downloaded themes 07:36
Building themes the traditional way 06:35
12. Helping Users Find Their Way Around Understanding Drupal default menus 05:33
Creating multilevel menus 03:46
Creating easy-to-navigate books 06:35
13. Expanding a Site's Capabilities with Modules Installing and uninstalling modules 07:38
Configuring modules 04:48
Surveying popular modules 06:15
Enabling styled text with a WYSIWYG editor 05:13
14. Displaying Information with Views Understanding views 04:46
Creating views 06:27
Modifying views 06:10
15. Administrating Drupal Launching a Drupal site 07:39
Troubleshooting a Drupal installation 05:12
Backing up and restoring a Drupal site 03:44
Updating Drupal 04:25
Deleting Drupal 02:31
16. Going Further with Drupal Monitoring performance 05:27
Improving administration skills 03:18
Reviewing security and permissions 04:50
Adopting best practices 02:12
17. Developing for Drupal Programming modules 06:02
Joining the Drupal community 05:25
Conclusion Next Steps 01:20